Do you want to find the best digital marketing blogs in India? Listed below are the 10 Best Digital Marketing Blogs in India to follow.
The top ten digital marketing blogs in India and their URLs are listed below. I recommend that you read all the way through.

This benefits millions of people through digital marketing.
It all starts with picking a niche, a topic of interest in which you have prior knowledge. Travel, gaming, conscious consumers, pets, healthy living, apparel, and so on are all possibilities. THEN YOU BEGIN WRITING.
Write about anything you want, conduct research, learn to recognize other people's problems, and devise a creative solution. This will increase traffic to your blog and eventually allow you to monetize your efforts. ​
There is a faster way to build a successful blog from scratch – learn from blogs that are already popular in your niche.
By learning and analyzing the top blogs, you will get a lot of blog post ideas and learn how to properly monetize your blogging efforts to make more money.
Learn from digital marketing experts if you want to improve your marketing skills. Reading blogs provides you with high-quality information for creating successful websites.
Looking for digital marketing help for your website/brand. As a Digital Marketing Freelancer, I can help you get the awareness your brand needs.
Below is a compiled list of the Top 10 Digital Marketing Blogs in India to Follow in 2023.
Check out the list below:-​
No list of Indian social media and digital marketing resources is complete without Social Samosa.
Catering to agencies and brand marketers, it's a goldmine of exemplary campaigns, practical checklists, and quick cheat sheets that streamline marketers' lives.
Beyond its initial blog identity, Social Samosa now thrives with influencer-focused Facebook Live sessions, thorough campaign analyses, and Instagram memes.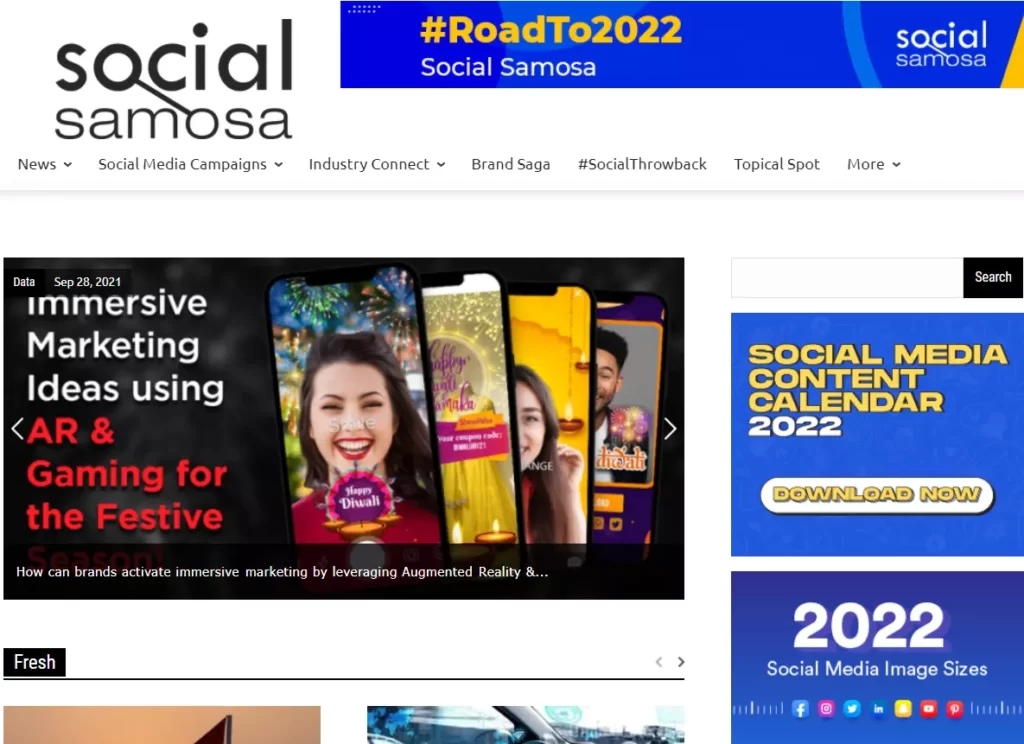 It's a holistic haven benefiting businesses' audience outreach and offering enriching content for readers.
The platform's calendar brims with events that unite global media, agency, and brand experts.
Social Samosa isn't merely a publication; it's a dynamic hub fostering digital marketing expertise and collaboration.
In the intricate realm of media and digital marketing, exchange4media emerges as a beacon of knowledge and insight.
Serving as a comprehensive platform, it offers a panoramic view of industry dynamics, trends, and innovations.
Navigating the ever-evolving landscape, exchange4media connects professionals, enabling them to make informed decisions and foster industry growth.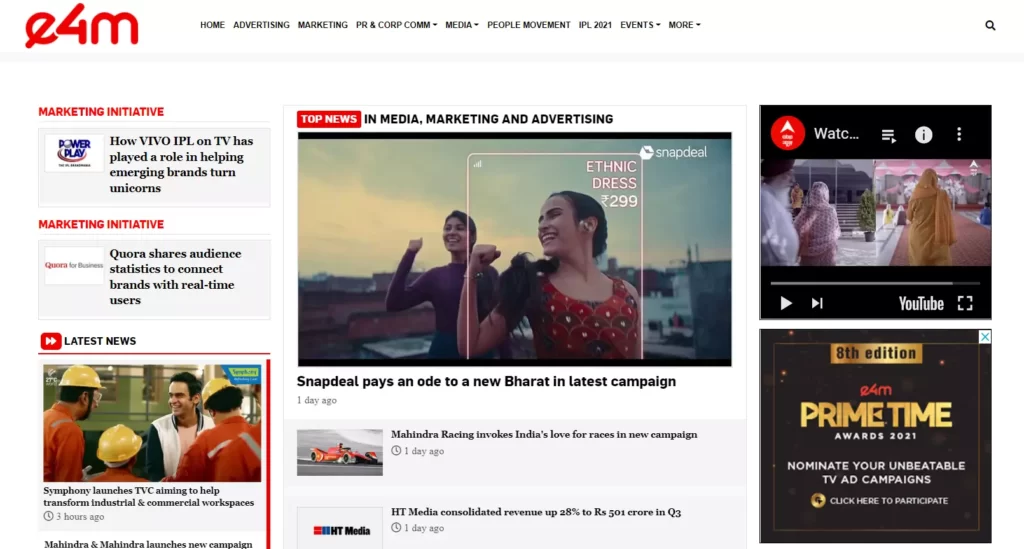 Beyond its virtual presence, it orchestrates a symphony of industry engagements.
Webinars, conferences, and insightful articles create a tapestry of learning and networking opportunities.
As a bastion of reliable information, exchange4media empowers professionals with the knowledge to navigate challenges and seize opportunities in the dynamic media and marketing arena.
Exchange4media isn't just a publication; it's a dynamic force driving collaboration, innovation, and excellence.
No discourse on the Indian digital marketing landscape is comprehensive without acknowledging Campaign India.
This platform stands as a definitive hub for industry insights, serving marketing professionals and enthusiasts alike.
Overflowing with innovative campaigns, strategic analyses, and thought leadership, Campaign India elevates marketing discourse.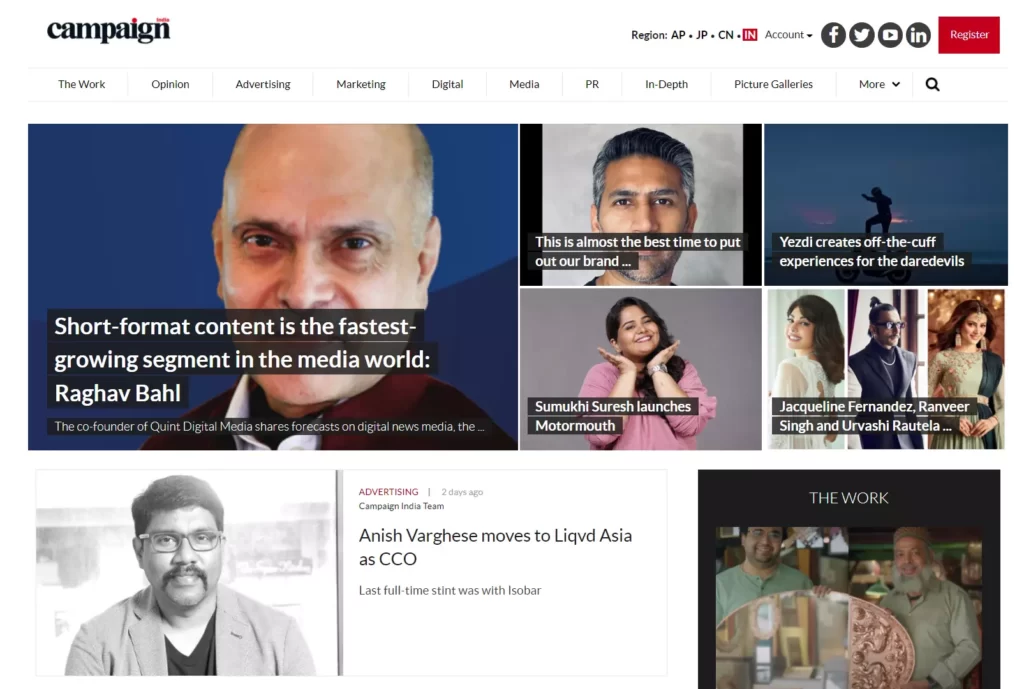 Beyond its digital pages, Campaign India orchestrates an array of knowledge-sharing endeavors.
Engaging webinars, illuminating interviews, and collaborative events form a tapestry that binds the marketing community.
With an unrelenting pulse on industry trends, it remains an essential compass guiding brands, agencies, and marketers through India's dynamic marketing currents.
Campaign India isn't solely a publication; it's a transformative force fostering connections and propelling the digital marketing realm forward.
In the vibrant tapestry of advertising and media, Afaqs! emerges as an indispensable thread.
As a trusted platform, it weaves together a rich fabric of industry knowledge, trends, and analyses.
With its finger on the pulse, Afaqs! empowers professionals to decode the evolving landscape and make strategic strides.
The content strategy of Afaqs is different from most digital marketing blogs in India.
Beyond its digital pages, afaqs! curates a space for industry confluence.
Webinars, events, and expert perspectives cultivate a culture of continuous learning and collaboration.
Unveiling the nuances of advertising and media, afaqs! equips professionals with the insights they need to create impactful campaigns and stay ahead of the curve.
Afaqs! isn't just a publication; it's a dynamic compass guiding professionals through the intricate labyrinth of advertising and media.
In the expansive realm of blogging and digital marketing, ShoutMeLoud founded by Harsh Agarwal, stands tall as a bastion of expertise and empowerment.
With a repository of invaluable advice, strategic revelations, and triumph tales, ShoutMeLoud serves as a guiding star for both burgeoning enthusiasts and seasoned professionals, enabling them to flourish in the dynamic online arena.
Beyond its humble beginnings as a blog, ShoutMeLoud has evolved into a thriving ecosystem.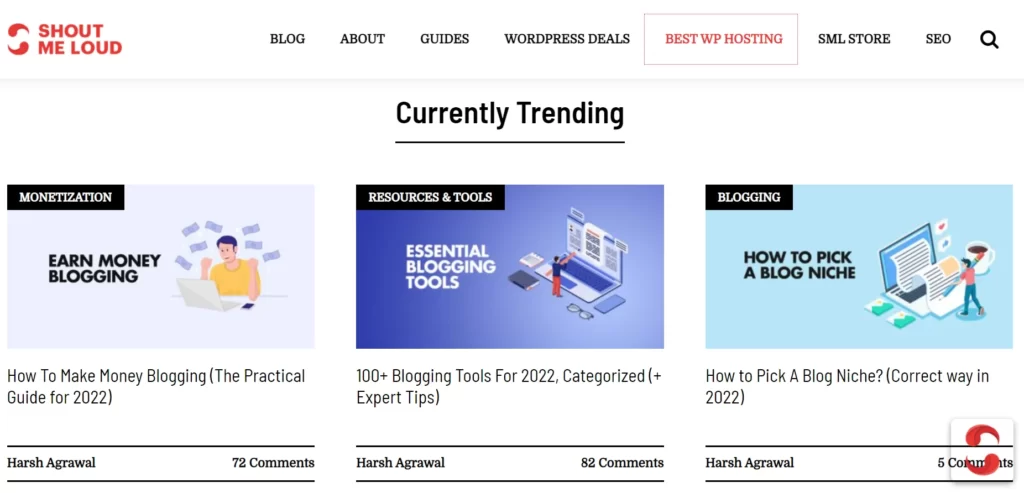 Through webinars, in-depth tutorials, and vibrant community interactions, it cultivates a culture of perpetual learning and holistic growth.
As an unwavering beacon in the world of blogging, it equips individuals with the essential tools to craft compelling content, fine-tune strategies, and navigate the multifaceted landscape of digital marketing.
ShoutMeLoud isn't merely confined to the realms of a blog; it's a dynamic mentor, a creative compass, and an indomitable force that propels writers and marketers toward amplifying their online presence, reaching new pinnacles of success.
Amidst the dynamic landscape of advertising and marketing, Adgully stands tall as a trailblazer of insights and innovation.
As a comprehensive platform, it unfurls a tapestry of industry wisdom, trends, and analyses.
Guiding professionals through the intricate web of evolving strategies, Adgully bridges gaps, fostering connections and informed decision-making.
AdGully also hosts its own flagship events throughout the year, bringing together various segments of the digital marketing industry. ​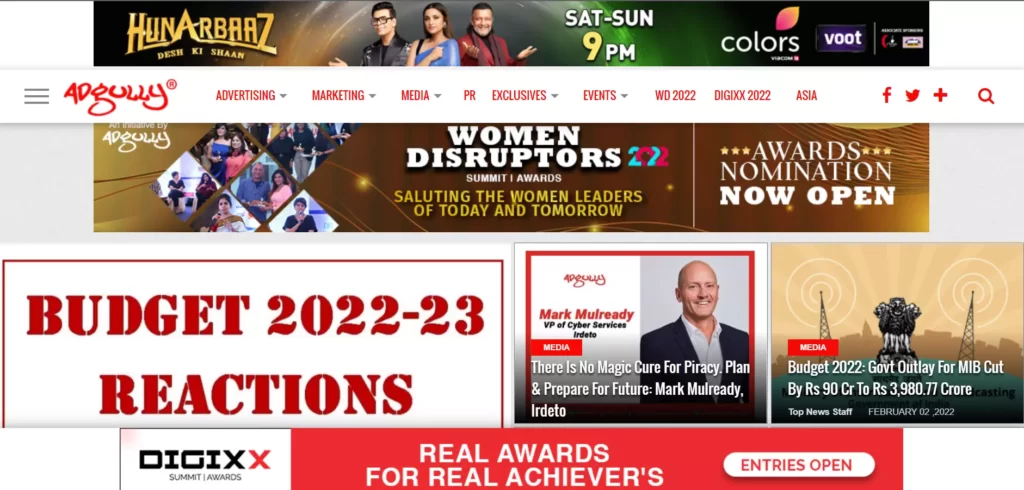 Beyond its digital façade, Adgully curates a thriving arena for industry interactions.
Webinars, events, and insightful articles create a symphony of learning and networking.
An advocate of informed decision-making, Adgully empowers professionals with the tools to navigate challenges, capitalize on opportunities, and craft impactful campaigns in the ever-changing landscape.
Adgully isn't just a publication; it's a dynamic catalyst, propelling collaboration, innovation, and excellence in the advertising and marketing sphere.
Within the vibrant tapestry of the digital realm, Social Beat, a Chennai based publication, shines as a beacon of expertise and innovation.
A powerhouse of insights, strategies, and success stories, Social Beat empowers businesses and marketers to navigate the complex landscape of digital marketing with finesse.
They have over 200 satisfied customers and have worked with large corporations such as Finolex, Casagrande, Tata Mutual Funds, Malabar Gold & Diamonds, Himalaya, and others.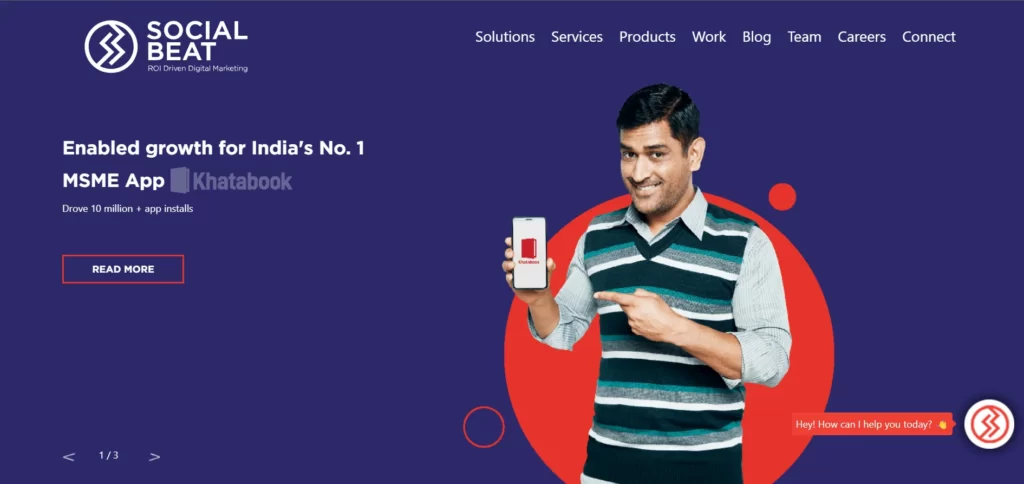 Moving beyond the ordinary, Social Beat serves as a hub for dynamic learning. Webinars, workshops, and interactive sessions create an ecosystem of constant growth and knowledge exchange.
With an acute awareness of emerging trends, Social Beat equips professionals to harness the power of digital platforms effectively, ensuring their brands stand out in the online arena.
Social Beat is more than just an agency; it's a dynamic partner that propels businesses toward digital excellence, offering the tools and guidance needed to thrive in the ever-evolving digital ecosystem.
Deepak Kanakaraju, also known as Digital Deepak is one of India's top digital marketing blogs, as well as the best blogger in the motorcycle industry.
Amidst the labyrinth of digital marketing blogs, Digital Deepak emerges as a guiding light.
A reservoir of practical wisdom, strategic insights, and transformative journeys, it empowers marketers and enthusiasts alike to navigate the intricate pathways of the digital landscape.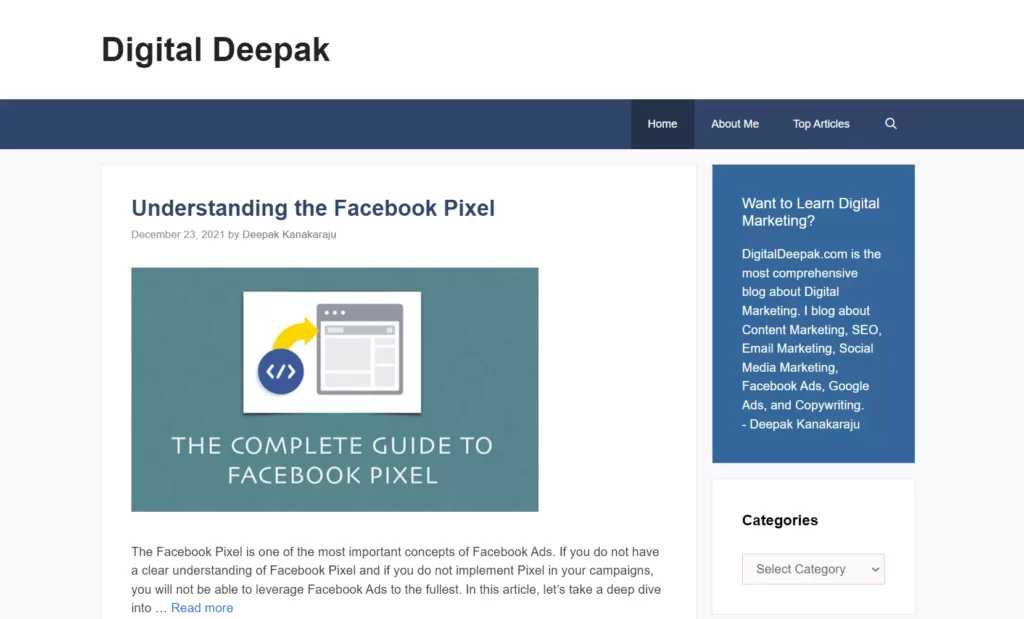 Going beyond conventional norms, Digital Deepak becomes a mentor through its immersive learning experiences.
With a finger on the pulse of emerging trends, Deepak equips individuals with the arsenal needed to conquer the dynamic digital world, ensuring brands and professionals stay ahead.
Digital Deepak isn't just a name; it's a dynamic compass, steering you towards success in the digital universe, and helping you master the art of impactful digital marketing.
He was appointed CEO of PixelTrack Digital Pvt Ltd in 2018. He is now the CEO of Learntoday, which assists people in learning digital marketing. His digital marketing blogs assist in understanding the fundamental concepts of digital marketing.
In the ever-evolving landscape of digital marketing, Sorav Jain stands as a guiding light.
With an exceptional blend of experience and insight, Sorav has become a go-to resource for marketers seeking mastery in the digital realm.
His platform is a treasure trove of practical strategies, innovative ideas, and thought-provoking insights.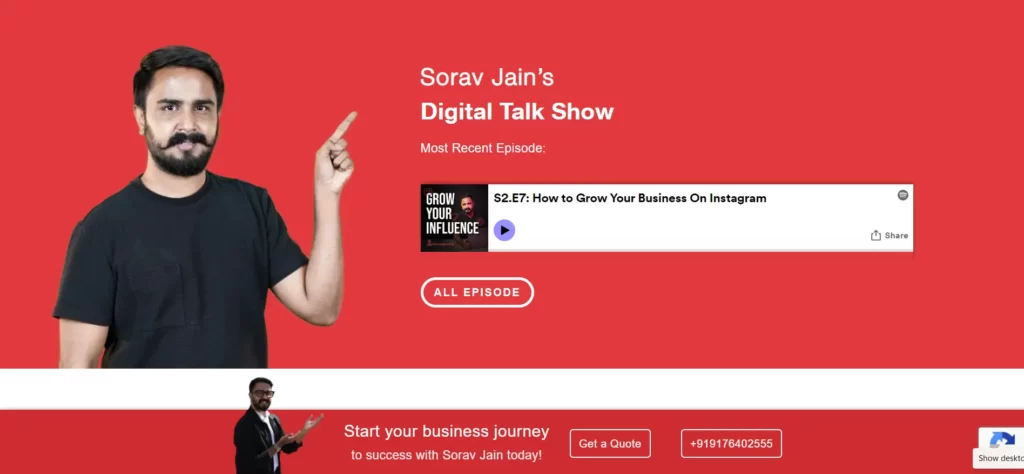 Beyond his digital footprint, Sorav Jain is a dynamic force of knowledge sharing.
Webinars, workshops, and engaging social interactions paint a vivid picture of his commitment to empowering fellow marketers.
With a keen eye on emerging trends and technological shifts, Sorav's expertise resonates through his content, propelling professionals to stay ahead in the fast-paced world of digital marketing.
Sorav Jain isn't just an influencer; he's a mentor, a visionary, and a trailblazer in the digital marketing arena.
In the realm of impactful marketing, Influencer.in emerges as a catalyst for authentic connections.
A hub of insights, success stories, and collaboration strategies, Influencer.in empowers brands to harness the influential prowess of the digital age.
Going beyond conventional approaches, Influencer.in pioneers a new era of engagement.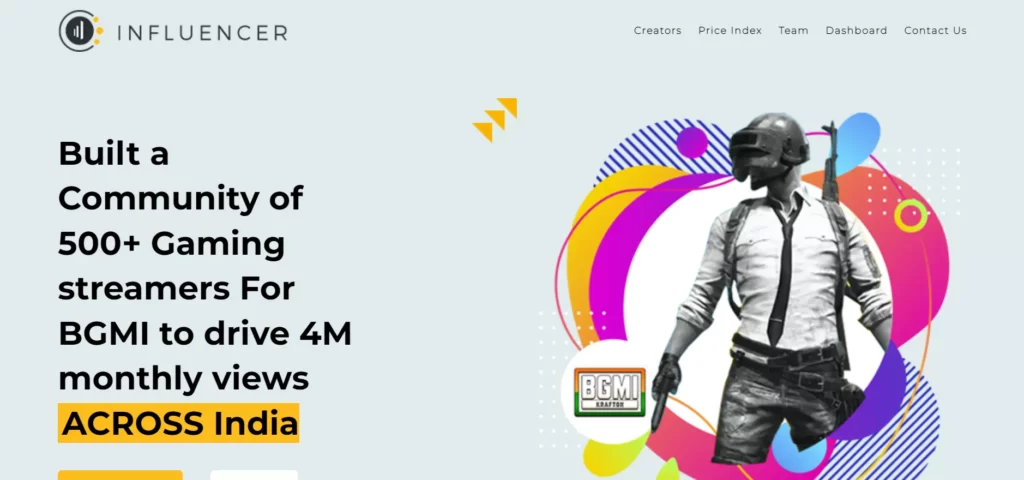 Influencer.in acts as a go-between for brands, bloggers, and influencers. If you are an influencer or want to be one, you can learn proven strategies, guides, tips, and tricks from their blogs.
With an adept understanding of evolving dynamics, Influencer.in equips marketers with the tools to create meaningful partnerships that resonate with audiences and elevate brand narratives.
Influencer.in isn't just a platform; it's a dynamic gateway that unlocks the potential of influencer marketing, propelling brands and professionals towards a future where influence shapes the digital marketing landscape.
Editors Choice - Special Mention
In the vast expanse of digital marketing, Neil Patel emerges as a luminary guiding both novices and experts alike.
With a wealth of transformative insights, strategic brilliance, and data-driven methodologies, Neil Patel's work is a testament to his commitment to fostering digital success.
Beyond his reputation, Neil Patel fosters a culture of constant growth. His webinars, blog posts, and comprehensive guides serve as a roadmap for navigating the complex digital landscape.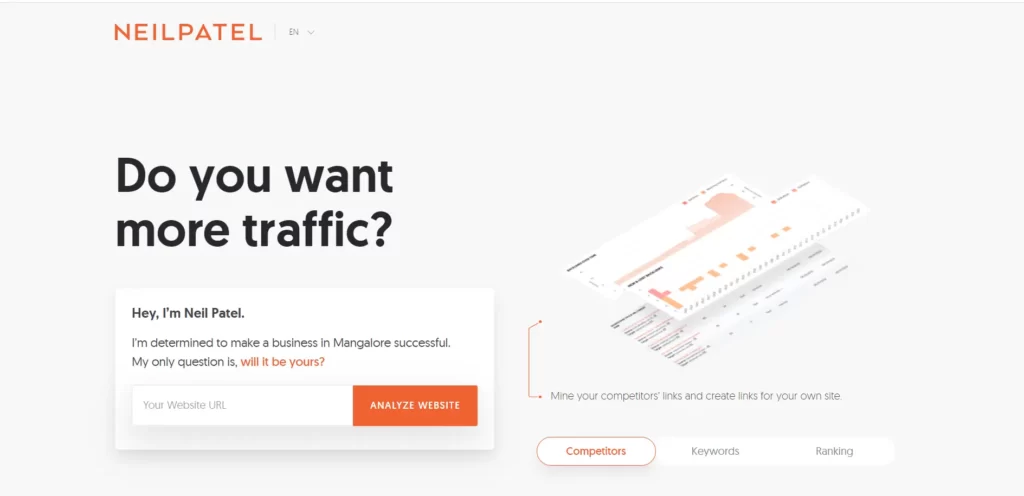 By deciphering algorithms, exploring SEO intricacies, and demystifying content strategies, Neil Patel empowers marketers to make informed decisions and achieve remarkable outcomes.
He co-founded Crazy Egg, Hello Bar, Stride, and KISSmetrics. Additionally, he serves as a columnist for HubSpot. His expertise has been instrumental in driving revenue growth for prominent companies including Amazon, NBC, GM, P, and Viacom.
Neil Patel isn't just a name; he's a harbinger of digital enlightenment, tirelessly unraveling the possibilities of online success and inspiring countless professionals to thrive in the ever-evolving digital ecosystem.
Navigating the entire path of Freelance Digital Marketing can prove to be quite challenging. Click below to access top-notch Digital Marketing services in Yelahanka, Bangalore.