The Top Website Builders in India are listed in detail below. Make an educated choice for the Best Website Builders in India in 2023.
Thinking of starting a blog, a website, or an online store? If so, you'll need to decide on the best website builders and tools to help you get started easily and efficiently.
While there are plenty of website builders out there that make it easy to create a website, choosing the right one for your needs can be tricky.
With so many options available, it's difficult to know where to begin.
This article will break down some of the best website builders in 2023 for beginners and their pros & cons.
There are a few popular options that will get you to what you want. The best website builders, on the other hand, have distinct advantages and disadvantages.
Using WordPress allows me to do exactly what I want while also providing visitors to my blog with a high-quality experience.
It might work for you, but depending on what you're trying to accomplish, some of my other picks might be better.
Here are my reviews of the six best website builders in 2023 you can use right now. In each, I go into detail about why each product is ideal for specific needs and use cases.
Take charge of and manage every aspect of your website. Alternatively, use my top recommendation and let the website build itself (seriously). It's entirely up to you.
Wix — The Best for General Use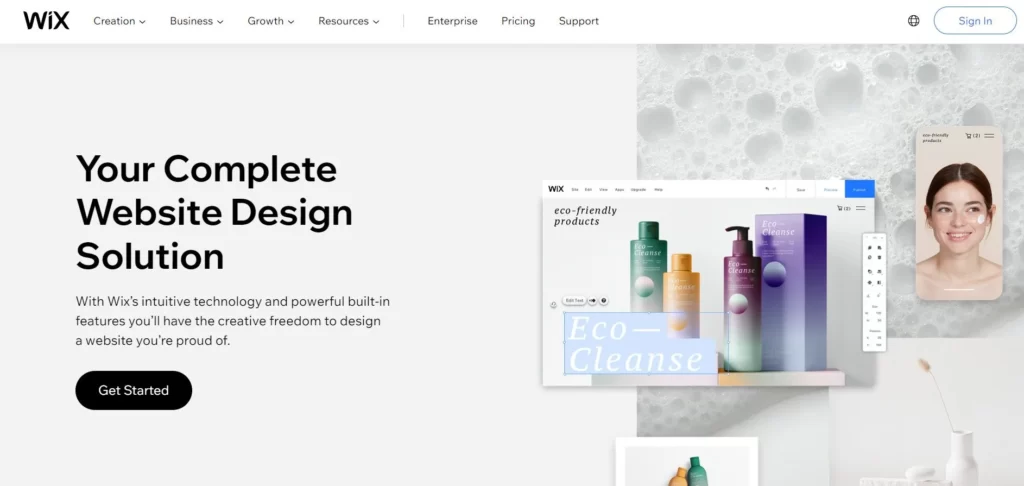 Wix is one of the most well-known and widely used website builders out there. It's a great option for beginners due to its easy-to-use interface and friendly design.
When creating a website with Wix, you can choose from a variety of pre-designed templates, including options for blogs, portfolios, and eCommerce stores. You can even use Wix to create an online store.
Most Wix paid plans include $300 in free digital ad vouchers, allowing you to market your new blog or ecommerce store with no additional costs.
The site also offers free stock photos and other images to help you customize your website. Aside from the website builder, Wix also offers online marketing tools and a free business email address through its Wix SMB app.
The platform offers a free plan that lets you host one site, but it has limitations and isn't ideal for all users.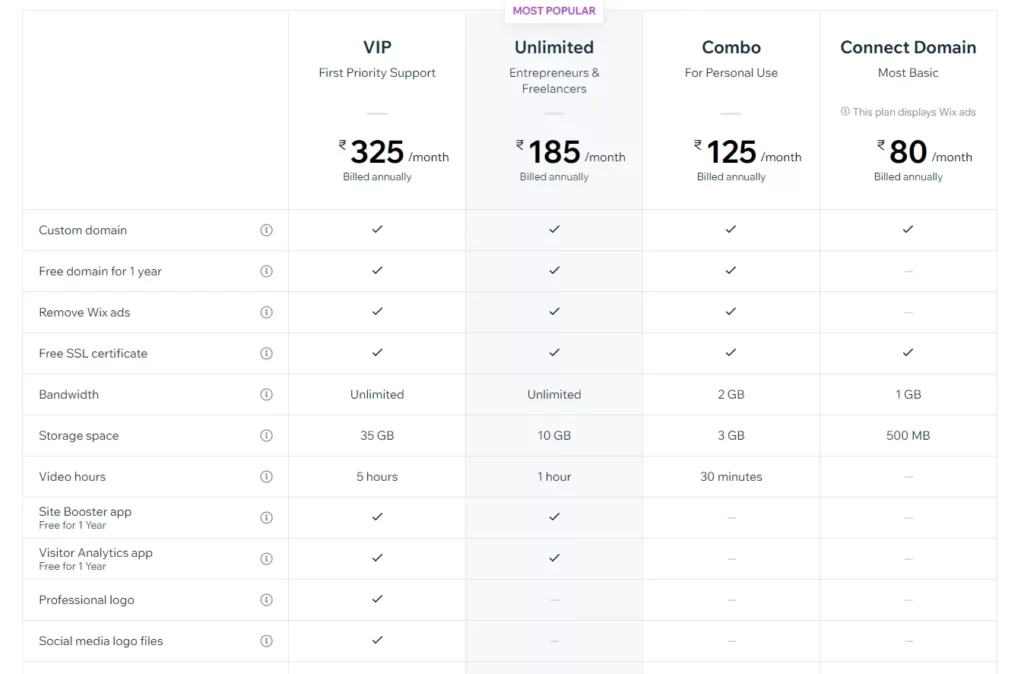 Powerful app market – Wix has a plethora of add-on features available through their app market. Do you want to book meetings on your own site? They've got your back. Do you want a live chat pop-up box? Simply click and drag it onto your website.
Covers every need – Wix meets the majority of the requirements of people looking to create a website. Setting up an ecommerce store, blog, or even a simple information website is all part of this.
Lots of templates – Wix has a large number of templates from which to choose to get your website up and running quickly. Their templates are well-designed and consider the user experience.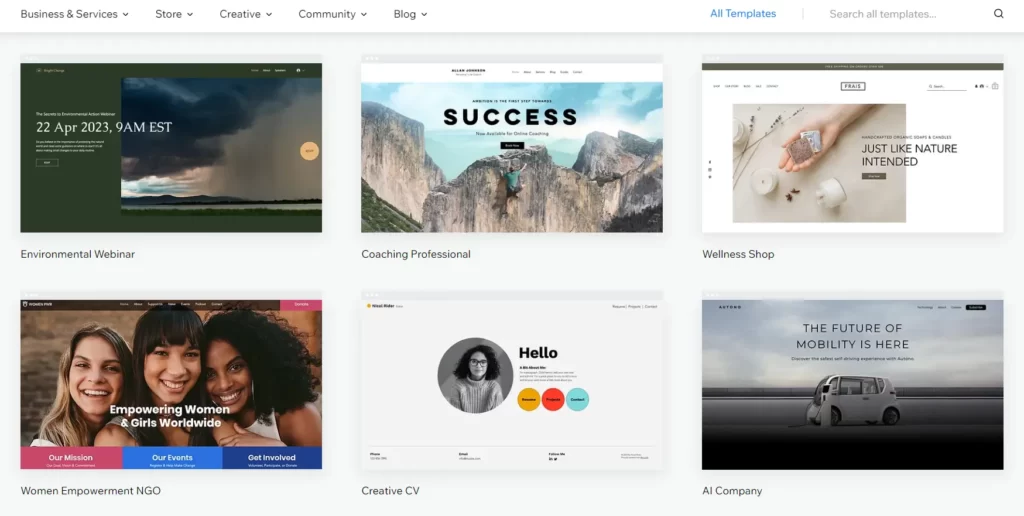 No migration – One significant disadvantage of Wix is that you are locked in, so you cannot move the code of your website elsewhere later on. This can cause issues if you need to scale your business quickly.
Jack of all trades, master of none – Wix's primary strength is also its primary weakness. Despite having numerous features, it cannot compete with the quality of niche website builders.
Small business – If you provide a service such as legal advice or marketing, Wix is a reliable website builder that will meet all of your requirements. Avoid Wix if your primary goal is to sell products online.
Freelancers & Proffesionals – Similarly, Wix is ideal for professionals who want to promote their personal brand. It will enable you to cover all possible bases for highlighting your portfolio, such as attending meetings and even blogging.
Zyro — The Best for Multi-purpose business website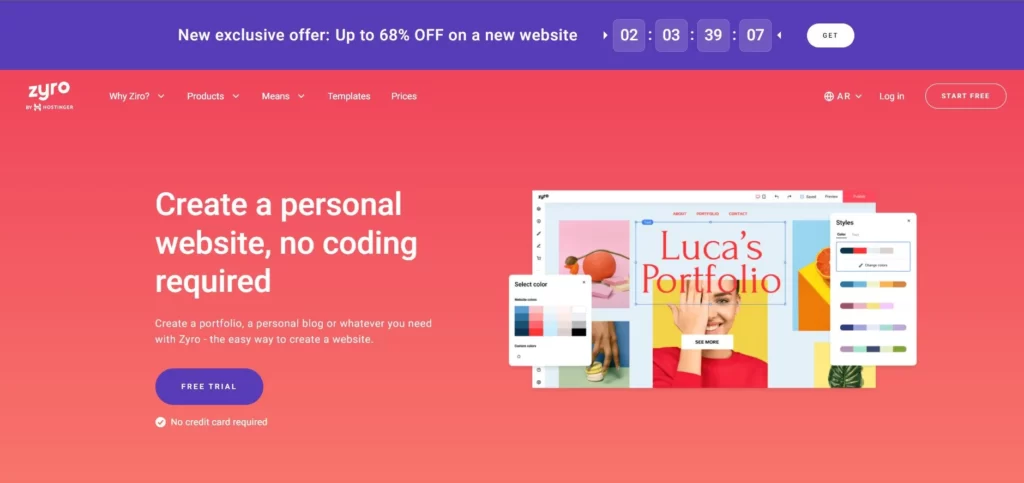 Sometimes you don't have the time or patience to create a website from the ground up. Fortunately, a website builder like Zyro allows you to quickly create a personal or lightweight business site.
After signing up, you have the option of creating your website from scratch, using one of 140 templates, or using their AI-powered site builder.
Zyro's pricing plans include all of the features you could possibly require. Zyro offers an all-in-one package that includes everything from blogging tools and email service to ecommerce, live chat, inventory management, and remarketing.
If you want your business website to handle content marketing, online sales, and customer service right away, choose Zyro's higher-octane plans, which still come at a price that is comparable to or lower than that of the other big names in ecommerce builders.
The builder is an extension of Hostinger, a popular web host recommended by the industry's best.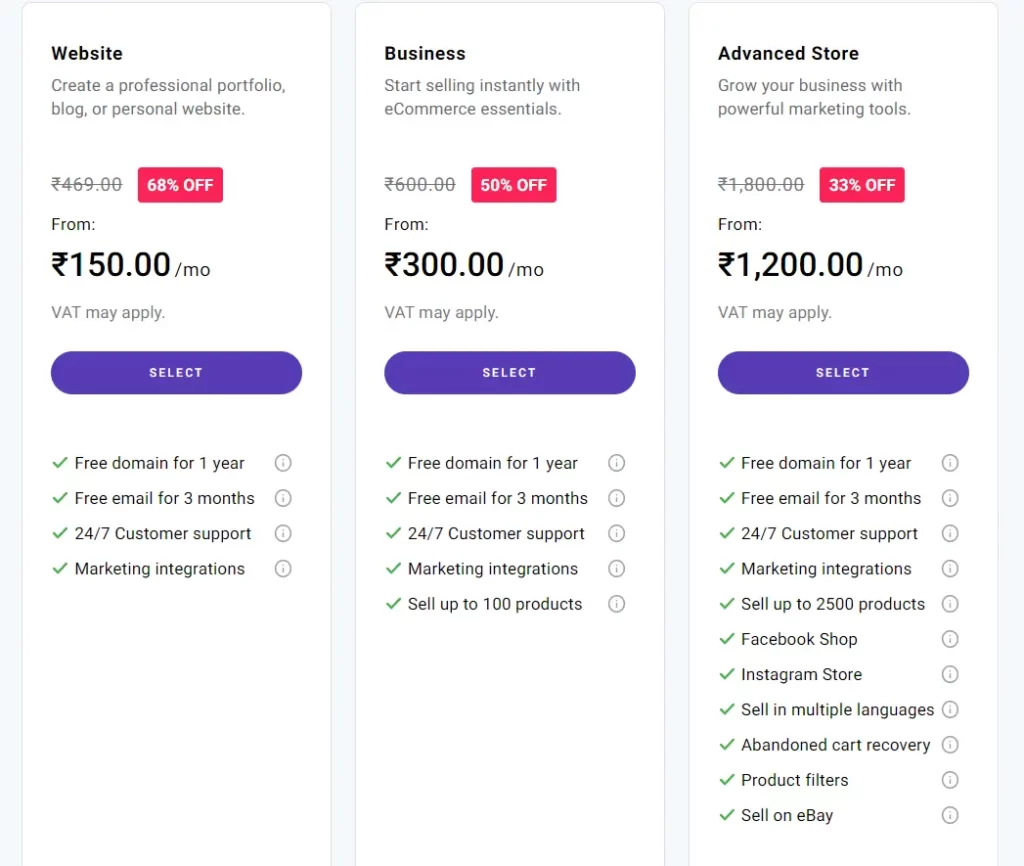 Great for Novices – With Zyro's site building options, AI can create a site for you in minutes with only a few inputs from you. Start with a beautiful template and make simple changes to match your brand identity. You'll also have access to Zyro's 24/7 support if you get stuck.
Free hosting on every plan – Zyro is a division of Hostinger, one of the best web hosts on the market today. So, not only is hosting included in every plan, but you also get the dependability and performance that Hostinger is known for at no extra cost.
Constant improvements – When you choose a website builder that cares enough to keep adding new features and improving the overall user experience, it's reassuring. Zyro's recent enhancements include the ability to schedule blog posts for later publication, email linked to your domain, support for multiple authors on a blog post, and improved formatting.
Customer Relationship features – You can use Facebook and WhatsApp messaging embedded on your site on any of Zyro's four plans, create remarketing lists for failed conversions, collect visitor information via Facebook Pixel and Google Analytics and Tag Manager, and easily integrate apps such as calendars for appointment scheduling.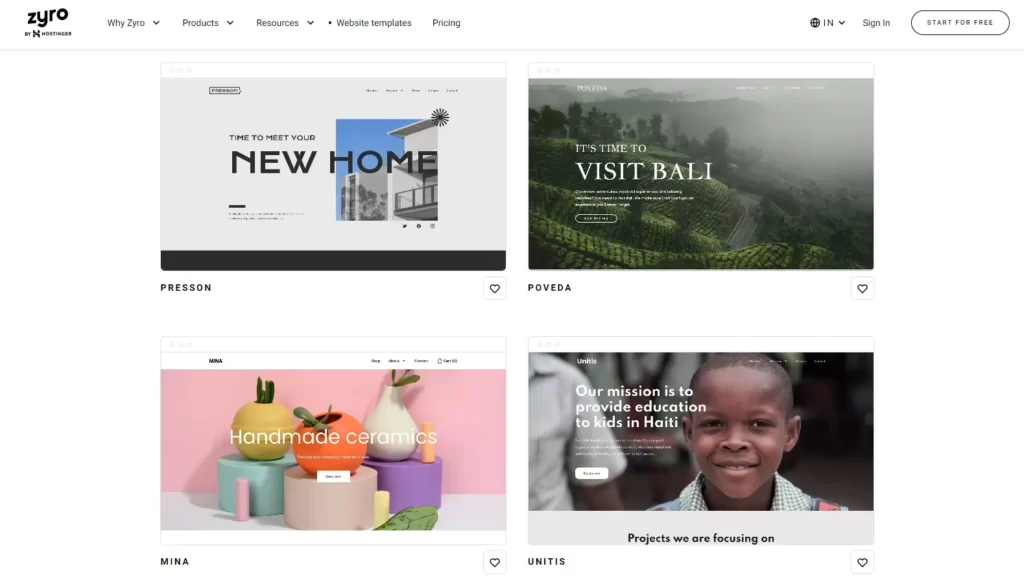 No free forever plan – Unlike some other website builders, Zyro does not provide a completely free package. You can build and test your site for free with a Zyro account, but you'll need to pay for a plan to publish it to the web and make it accessible to visitors. However, there is a 30-day money-back guarantee.
Limited products– Other ecommerce site builders allow you to sell a large or unlimited number of products. Three Zyro plans allow you to list products on your website, but two of them limit you to just 100.
Businesses that require more than a website or a contact page – If your company is looking for an all-in-one solution for blogging, ecommerce, and customer service that won't break the bank, Zyro has affordable plans that check all the boxes.
Weebly — The Best for Beginners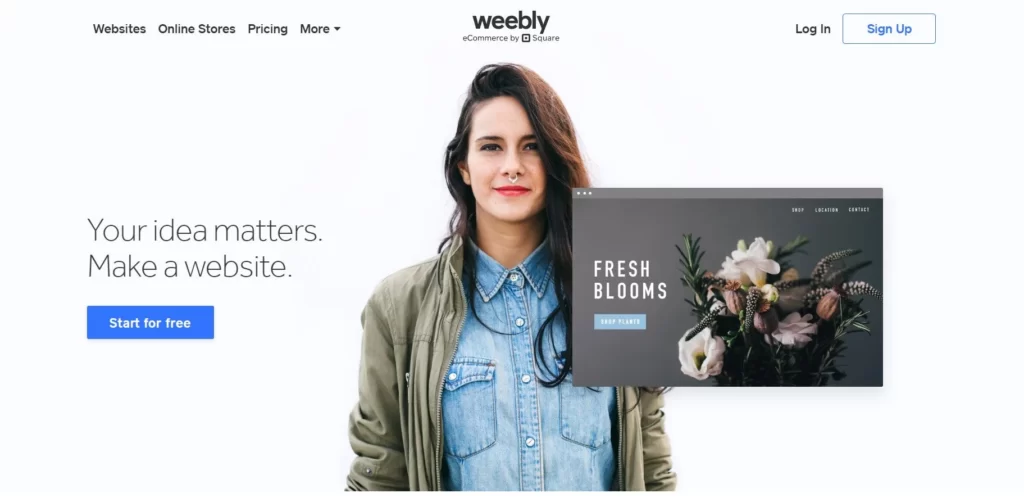 Weebly, like Wix and Squarespace, is a versatile, out-of-the-box website builder. It is ideal for freelancers and solopreneurs who require a website and a simple method of charging for their services.
Square, the company behind the popular point-of-sale system, powers Weebly. That means you'll be able to easily integrate your POS sales with your website if you sell products in-person, such as at a farmers' market.
It is also simple and straightforward to set up. I can easily swap out products, prices, and descriptions, as well as digital assets like logos, product images, and banner images, because it's a WYSIWYG (what you see is what you get) builder. After signing up, it took less than five minutes to set up a basic store.
Even the free plan allows you to add a shopping cart and an unlimited number of products to your Weebly site. It's ideal for local businesses because all site builder plans include inventory management and in-store pickup.
Simple and easy to use – Weebly has an easy-to-use interface with drag-and-drop functionality. Everything appears to be natural and intuitive. It also helps that when you first start, they have an onboarding mechanism with email and popup explanations.
Migration – If you decide to host your own website, Weebly makes it simple to remove your site from their platform.
Affordable – Weebly has one of the most affordable pricing structures when compared to other generalist website builders, including a feature-rich free forever version.
Customer support – Weebly has a strong customer support team that is available every day of the week. They typically respond within one day via email, or even sooner via live chat or phone lines.
Online store capability – Weebly allows you to create a Square-powered web store. If you already use Square as a payment processor, Weebly provides a low-cost and simple way to begin selling products online.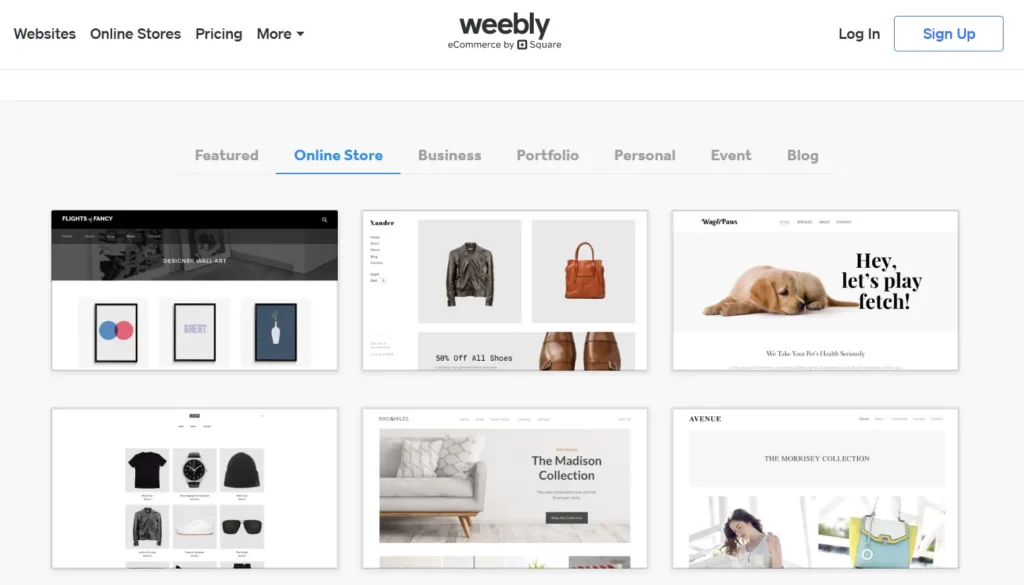 Lacks diversity of function – The disadvantage of using Weebly is that it lacks the power of Wix. There are fewer features, for example. Furthermore, some features, such as their content management system and analytic tools, are significantly inferior to competitors.
Limited customization– Because Weebly employs a drag-and-drop interface and themes, customization is limited. Wix has the same issue, but they have more tools at their disposal to solve it.
Scaling Problems – Weebly is simply not a good platform if you intend to grow your website significantly: it is merely a simple website builder for everyday users.
People who need simple websites – If you are not very tech-savvy and want to quickly set up a simple website, you should use Weebly. Associations or clubs that want to set up an information site about their group are one type of user.
WordPress — The Best for Content Management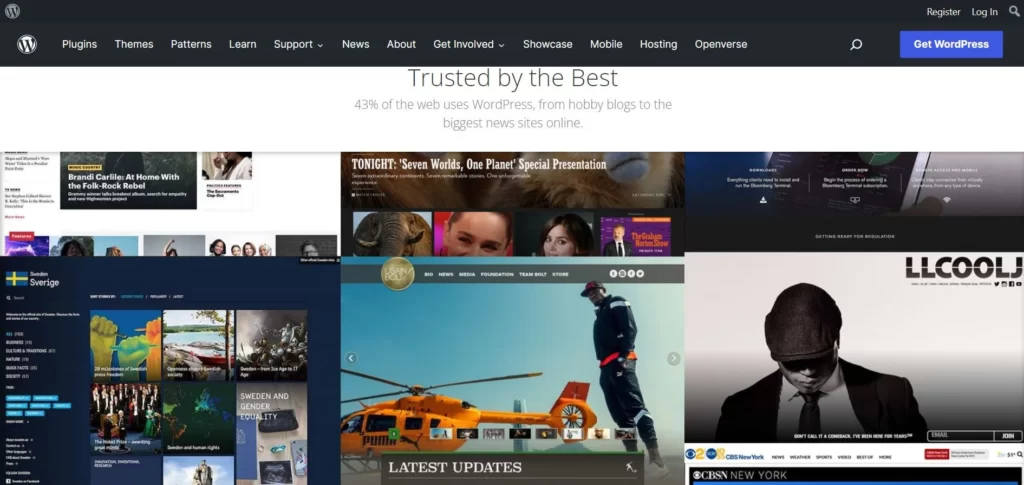 WordPress is one of the oldest and most dependable website builders. Since its inception in 2003, the platform has grown to become the most popular content management system on the internet.
WordPress, in fact, powers 43 percent of all websites on the internet.
If you use WordPress, you will be joining the ranks of Vogue, Bloomberg, Sony Music, The Walt Disney Company, and even Katy Perry's website, who al use it as their own CMS (content management system).
WordPress is not only highly customizable, but it is also scalable. This is a CMS that can scale up to any size you want or down to any size you want.​
WordPress is not only highly customizable, but it is also scalable. This is a CMS that can scale up to any size you want or down to any size you want.​
One critical distinction is that WordPress is divided into platforms:
WordPress.org – This is the open-source (free) version of WordPress, which has more flexibility but is more difficult for non-technical users.
WordPress.com– This is the paid edition. You can get assistance with theme installation and management, but it is generally less customizable.
You have Full Control – Unlike other website builders, WordPress is fully customizable because the site is built with code rather than drag and drop interfaces. This means you have a lot more design and functionality options.
Robust blogging and CMS– WordPress is designed with content in mind from the start. It has some of the most effective tools for publishing and managing content, such as team management, advanced scheduling, and categorizations.
Lots of plugins– WordPress has over 52,000 plugins available. You can use plugins like YoastSEO to measure and improve your SEO, or you can add a new feature like a shopping cart.
Update : WordPress.com is now offering Free Domain for 1 year with all of the plans shown above.
Help Needed – Because your WordPress site is code-driven, you will almost certainly require assistance installing and updating your WordPress theme. This can be expensive, especially if you want ongoing changes.
Learning Curve – It can take some time to learn how to manage and update your website on your own. Managing and scheduling posts is simple, but changing the look of your site or installing a plugin is much more difficult.
Who should use WordPress?
Bloggers – WordPress is an excellent choice if writing is your primary focus. The platform is intended for bloggers, with the goal of improving content management and SEO. WordPress will help you scale and make the most of your content.
Content centric businesses – Similarly, if you are creating a content-heavy business, such as a new website, WordPress will make managing the operational side of content production much easier.
Shopify — The Best for Ecommerce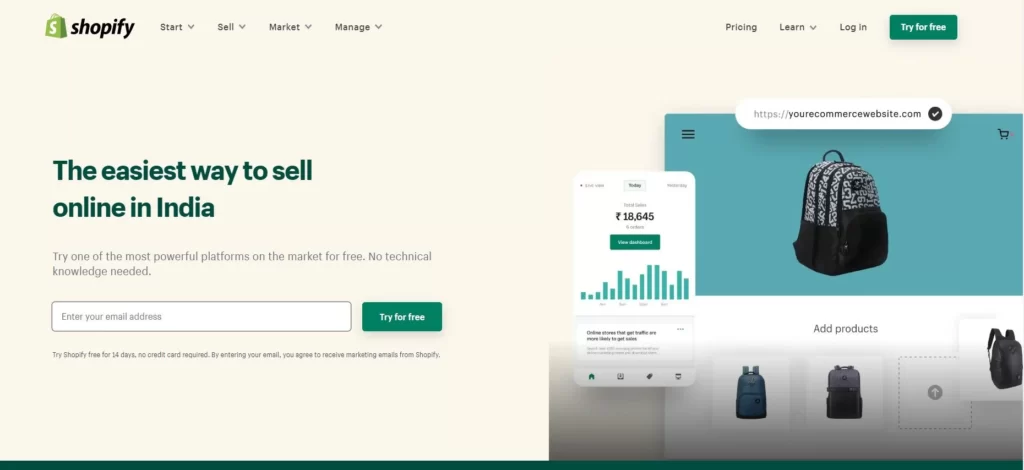 Shopify powers over 1 million merchants in 175 countries, making them one of the largest and most trusted ecommerce website builders available. In the United States, only Amazon and eBay have more online retail transactions.
Why would you use a site builder that doesn't specialize in ecommerce if you're selling jewelery, electric scooters, or tax preparation services?
Shopify was recently named one of the best website builders in 2023 and e-commerce platforms by Forbes Advisor. According to Shopify, over 1.7 million businesses have generated more than $200 billion in sales through their Shopify websites.
Every Shopify plan includes unlimited storage, unlimited bandwidth, and the ability to post an unlimited number of products, implying that Shopify scales beautifully as your business grows. The platform is so simple to use that you can set up a live Shopify store that is search engine optimized in just a few hours.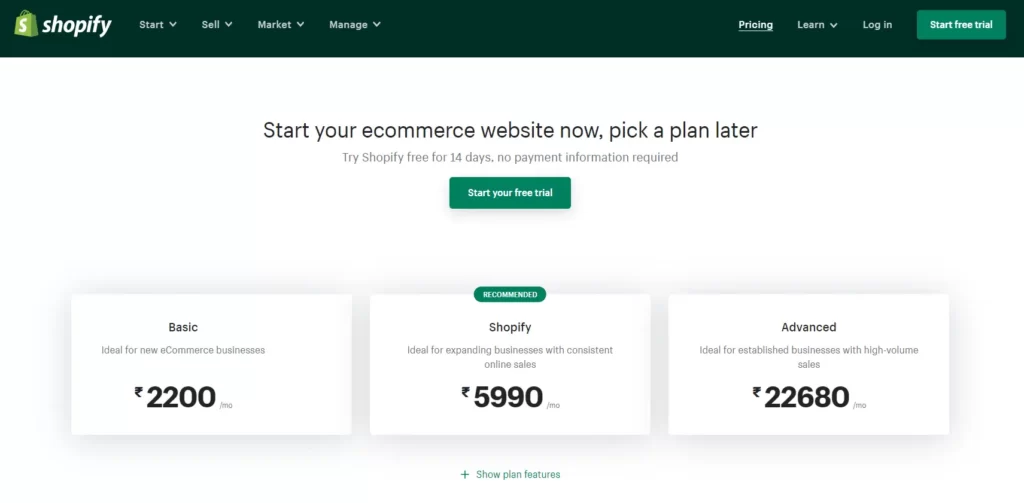 Ecommerce Specialty – Shopify's main selling point is that it is a niche website builder focused on creating an ecommerce store. This means that all of their features and processes are geared toward that goal, resulting in a powerful platform that can assist in increasing sales.
Integrated Sales Channels – Shopify is well-integrated with other platforms, including Facebook and Amazon. This allows you to streamline your sales by managing your catalogue across all platforms from a single location.
Security –If you're going to handle transactions, you'll need ways to keep your site secure and your customers' data safe. Shopify stores have robust cybersecurity measures that a self-hosted website would typically lack.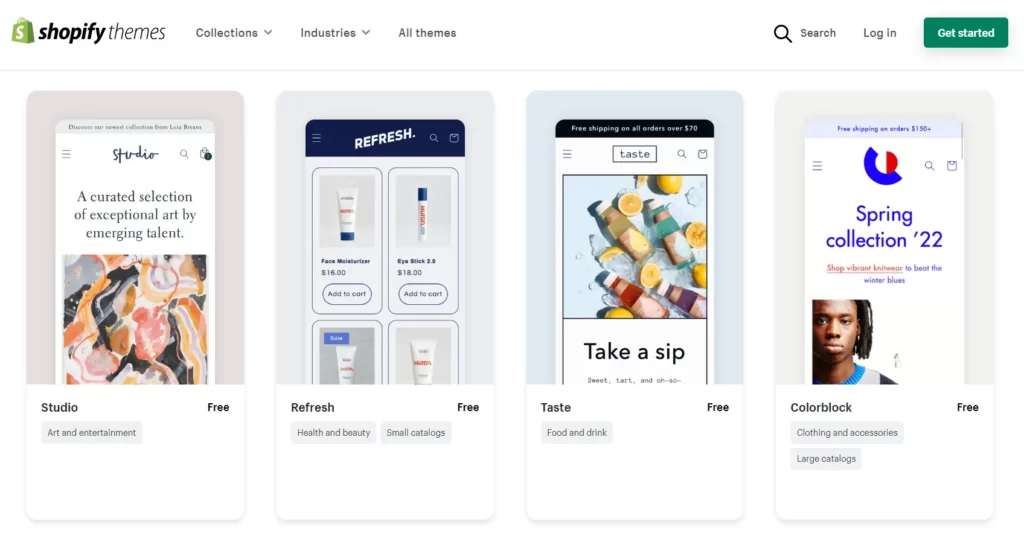 Narrow focus on ecommerce – Due to its primary emphasis on ecommerce, Shopify lacks certain features and refinement found in other website builders. For example, their content management system is considerably limited compared to WordPress.
Transaction fees + monthly fees – Shopify imposes a transaction fee ranging from 2.4% to 2.6% on each sale, which, along with payment provider fees, can reduce your profit margin.
Physical stores – If you own a brick-and-mortar store and wish to expand your sales online, Shopify provides a strong foundation for entering the digital realm.
Ecommerce startups – New entrepreneurs establishing their own brands or engaging in drop shipping will find Shopify's rapid end-to-end setup advantageous.
Web.com — The Best for building Landing Pages
Web.com is a straightforward website builder that is ideal for creating simple websites. It may not have all the bells and whistles, but it has enough to satisfy most small businesses and aid in the growth of their online presence.
It has a good price and great support, as well as an intuitive drag-and-drop editor that allows you to mold any available template to your needs.
Start with one of Web.com's 126 templates, then just change the colors, swap out some imagery, replace the copy, and add a custom form. You now have a beautiful landing page in about 15 to 20 minutes.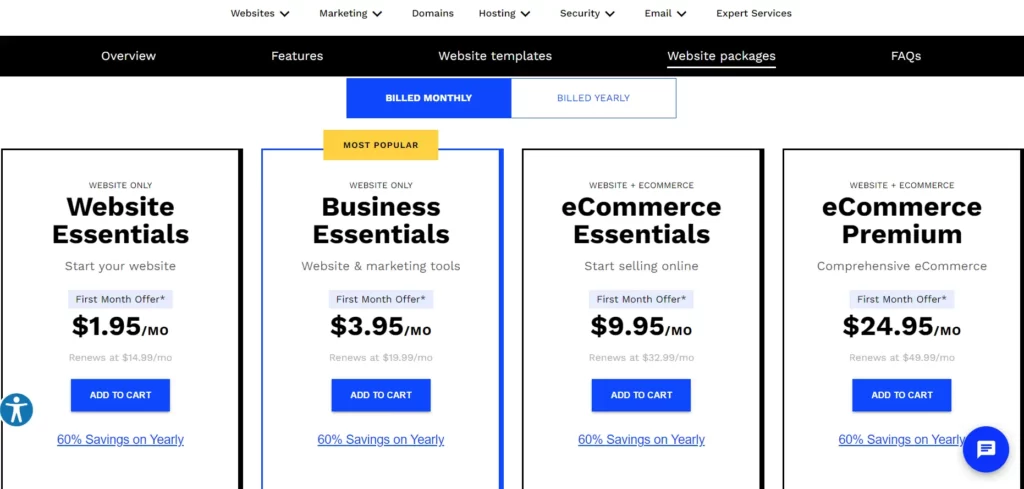 Email accounts – Web.com provides you with five email accounts that correspond to your domain. That's a boon for people building landing pages with Web.com because not only can you get multiple sites up and running quickly, but each can have its associated email address for split testing or collecting contest entries in a place where they won't clog someone else's inbox.
Affordable – Everything mentioned above is included in the Essentials plan, which begins at $1.95 per month. If you lock in a full year during checkout, it's only $4.95/month, this is the best deal.
One year Free Domain –Web.com will throw in one year of an available domain for free when your purchase one of their website builder plans.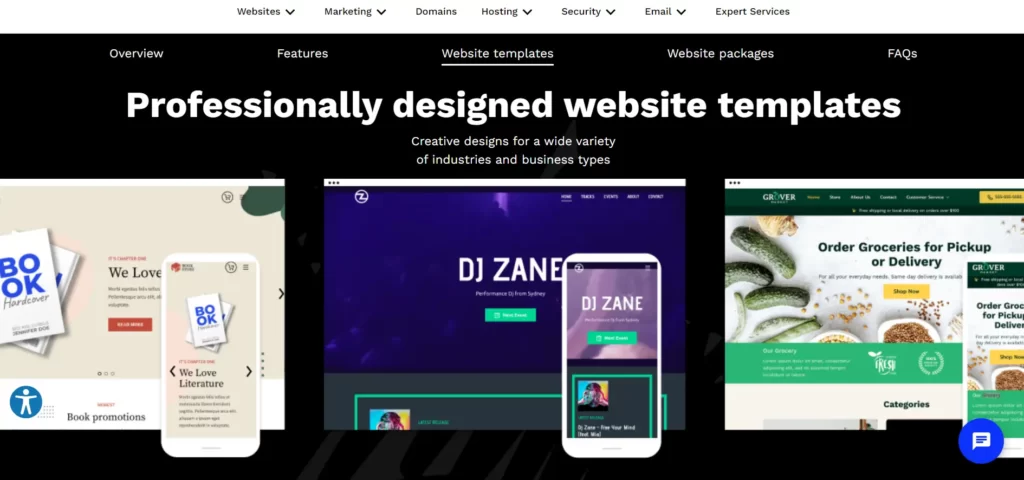 Limited Ecommerce features – Web.com's website building service also includes Marketing and eCommerce plans. They are slightly more expensive and better suited for standalone business sites, particularly for local and small businesses. However, more advanced selling features are generally lacking.
No building from scratch – You are somewhat constrained by the templates available to begin with. It's simple to modify them far from their original appearance, but some elements are permanent or at least inflexible, making it difficult to quickly build the exact site you envisioned.
Marketers working on multiple campaigns – If you want to create landing pages quickly while also getting the benefits of email and a domain, go with Web.com and enjoy every bit of value that comes with their Starter package.
What I Looked For When Choosing the Best Website Builders in 2023
It's time to dig deeper into some of the specific features to look for when selecting a website builder.
Although some website builders may fall into the same category, each may be better suited to your needs.
For example, if you're starting an online store, your primary concern may be a low learning curve, whereas someone else may be thinking about a platform that allows them to scale easily.
Here are some features to think about.
If you are new to setting up online or are short on time, the ease with which you can get started will most likely be your primary concern.
Intuitiveness
Learning Curve
Setup Time
Ongoing Management
If you are an established business looking to establish an online presence, you should seriously consider scalability. This is especially true if you already sell products at a large scale in the real world.
Startups in the fundraising process who want to scale quickly or even change the core features of their product should exercise caution here as well.
Custom Code
Migration
Integration
If you intend to run a site with a large number of visitors and it goes down, the last thing you want is an unresponsive support team. This is especially true if you intend to drive through a lot of traffic at the same time.
A website builder with a strong support team is also beneficial if you are just getting started online, because even with simple interfaces, you may get stuck.
Support Channels
Responsiveness
Customer Engagement
If you intend to make money from your website, whether through direct sales or lead generation, price should not be a major consideration. Invest in the best service for your requirements.
However, if you only need to set up a small information site, the cheapest options will suffice.
In general, feature-rich website builders are more expensive because they solve more specific problems.
When deciding which path to take, the main thing to consider is the features of a website builder. This is due to the fact that they will have the greatest impact on your specific objectives.
For example, if you want to create a landing page for a specific product, using a generic site builder will be difficult. It is unlikely to have the in-depth analytic tools that a dedicated landing page builder would.
Also, keep in mind that some features you may not require right now but may require in the future, such as if you intend to run paid ads on your blog posts.
Ecommerce Shop
Niche Features
Community
SEO
Marketing Tools
Analytic Tools
Whatever your goal, you should always be concerned with providing a positive user experience to those who visit your site. It simply makes sense - if your site is difficult to navigate, people will not get the most out of it.
The design and branding are also important. Some designs, for example, are more corporate, while others are more welcoming. There could be a design template that is ideal for your company.
And if you're selling something, you'll want to make sure the design is optimized for conversions.
Themes & Templates
Mobiles Friendliness
Customization
Building a custom website is a great way to connect with your target audience and grow your business.
When choosing a the best website builder in 2023, it's important to consider your needs and your budget.
If you want to create a website but don't know where to start, consider choosing one of these website builders mentioned above.
They're easy to use and can help you get started quickly with minimal effort.